Community Celebrates Annual Harvest Ag Festival
Something went wrong. Please try again later...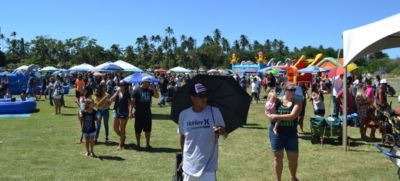 The community came together to celebrate the 5th Annual Harvest Ag Festival in West Kauai on Sunday, Oct. 21. 
In celebration of pumpkins and everything agriculture, Corteva Agriscience donated 1,000 pumpkins to the community, which scooped them up within the first three hours. The festival included four waterslides and three bounce houses for the keiki, and all-day entertainment with Kapena as the headliner. Food booths were run by nonprofits and sold locally raised products like Kauai shrimp, Kaneshiro pork, Makaweli beef and Kunoa cattle. The 5th Annual Harvest Ag Festival built bridges to connect the 8,000 attendees from keiki to kupuna back to agriculture. The festival highlighted the importance of farming and celebrated West Kauai's signature event.